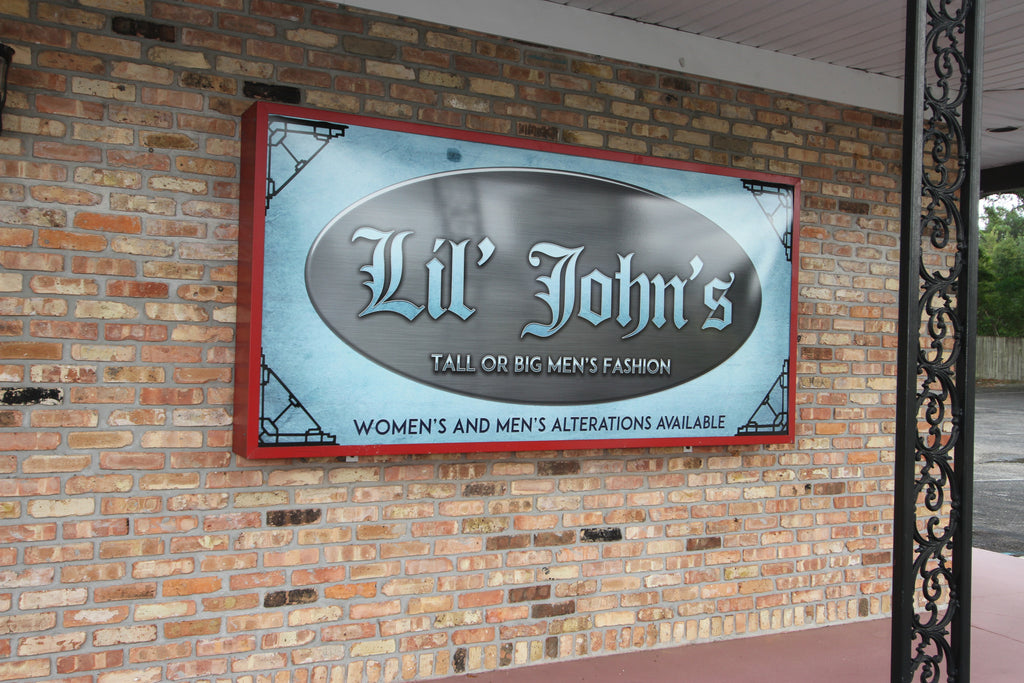 Buying men's clothing in Pensacola can be a nightmare if you're a large guy because there aren't many stores that sell men's big and tall clothing in Pensacola, FL. That's why Lil John's is the hero to big men all over the city. They are the one-stop shop for clothing and alterations if you're a big guy, and that's a big help. Now you don't have to scour the city or buy potentially ill-fitting clothes online. After one trip, you'll be hooked and know exactly what makes Lil' John's so great.
A Large Selection for Large Men
Nothing is worse than going into a men's clothing store in Pensacola and heading to the big and tall section only to find that their selection is composed of three or four articles of clothing. That's the true benefit of going to a store specifically designed for big guys. Sizes start at XL and head all the way up to 6XLT, so even the largest and tallest of men can find clothing to fit their stature.
Fashionable, Formal, or Casual
Often times the big and tall sections of department stores carry generic clothing that isn't what's in style. Furthermore, if you're a big guy you're most likely already familiar with the heartache that comes with trying on dress clothes. That's another facet that separates Lil' John's Big and Tall from other stores. The store for men's big and tall clothing in Pensacola is up to date with what's in style and offers professional clothing to give you a powerful presence. When you're large, you're in charge, and big men shouldn't be limited by what they wear. Picking out formal wear as a large man has never been easier.
Accessories and More
Lil John's Big and Tall does more than just sell large men's clothing in Pensacola, FL. From ties, bowties, handkerchiefs, and wallets, Lil' John's has everything to put the icing on your cake. When you look good, you feel good, and as much as we hate to say it, appearances do matter to an extent. When you're a big man, you're often limited to picking out shirts, pants, socks, and sometimes shoes. Accessories and items that help you go the extra mile always feel too small or constricting. You'll never have to worry about finding the finishing touches to your outfit at Lil' John's. 
Seamless Seamstresses
You may have found the perfect dress shirt or pair of pants, but what if it's a half-inch off from fitting perfectly? Don't settle for an adequate fit. Doing so makes your presentation's potential less than what it could've been. It's not often that you hear someone say to shoot for second best. As a large man that deserves the best, you should make sure that your clothes fit the best they can. The seamstresses at Lil' John's are experienced in altering men's big and tall clothing in Pensacola, FL, that way you get a guaranteed good fit.
Next time you're in the market for a new outfit, head to Lil' John's. Remember, buying men's clothing in Pensacola doesn't have so difficult if you go to a store that specializes in men's big and tall clothing in Pensacola.